Looking to share your new digital photos with family & friends? Wondering how to order prints, calendars, and other photo gifts of your scanned images?
Imagine the ability to view and share your entire collection of digital photos with anyone who has Internet access! Wouldn't it be nice if you could order real prints, enlargements, or photo gifts with only a few clicks of the mouse? Well now you can! Use our scanning service to digitize your photo collection. Once your photos are in digital form it's easy to share pictures, order new prints, enlargements, or photo gifts with an account from Shutterfly®. You can sign up yourself or grant us permission to create an account on your behalf when using our scanning service. For a small fee we'll even upload your photos for you. Read on to learn more about Shutterfly®'s exciting features or click the link to the right to sign up for FREE now. Get 15 FREE 4x6 prints to try Shutterfly!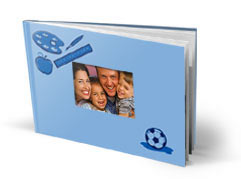 So What is Shutterfly®? Simply put, Shutterfly® is an online business that specializes in photo sharing, photo printing, and photo gifts. They offer FREE Online Photo Sharing, FREE Software, and Unlimited Photo Storage. They even give you 15 FREE 4x6 prints when you create an account. Click here to visit Shutterfly now.
What can I do with my Shutterfly® account? You can easily share photos with anyone who has Internet access. You can order prints: wallets all the way up to poster size. You can create photo gifts: mugs, mouse pads, photo books, t-shirts, calendars, etc. the list goes on and on. Click to visit Shutterfly
What does it cost? It costs nothing to sign up! Simply visit Shutterfly and sign up, it takes less than five minutes to create an account. If you need help uploading your photos or have a slower Internet connection, no worries. Here at Digital Memories Photo & Video we'll be happy to use our high speed connection to get your photos uploaded for a small fee.